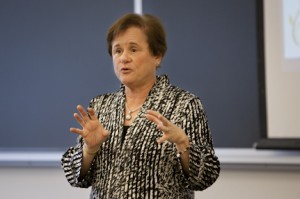 Ellen Glovsky, Ph.D., RD, LDN is a Registered Dietitian and a member of the Motivational Interviewing Network of Trainers (MINT), which is the international professional organization of MI trainers.  She is a member of the faculty of Northeastern University where she teaches courses in nutrition, public health, health behavior change, and Motivational Interviewing.   Ellen also maintains a private practice in which she utilizes Motivational Interviewing in weight management, the treatment of eating disorders and nutrition for the prevention of illness.
Ellen is an experienced presenter, trainer, and teacher. She is especially interested in helping clients in making changes in their attitudes and behavior regarding food by examining the barriers that keep them from caring for their bodies, minds, and spirits. The goal of this work is to make peace with food.
Dr. Glovsky has conducted training and consultation in  Motivational Interviewing for a variety of organizations around the country, including:
Selected Motivational Interviewing Trainings and Guest Lectures
MI Trainings in Medical Practice Settings:
Boston Public Health Commission
Cambridge Health Alliance, Cambridge, MA, provided monthly MI trainings for staff for Fallon Health Plan telephonic counselors
Headstart Health and Educational Staff, Hartford, CT
Jamaica Plain Health Center, Boston, MA
Medical Care Development, Augusta, ME: provide ongoing MI trainings in locations around ME
Mount Auburn Primary Care, Cambridge, MA
New England Quality Care Alliance: provided 6 trainings for quality improvement staff around the state of MA for primary care practices.
Veteran's Administration, State College, PA
Veterans' Administration Hospital, Brockton, MA
MI Trainings in University/Medical Training Settings
Boston Medical Center, Boston, MA
Children's Hospital of Connecticut, Hartford, CT
Children's Hospital Boston, Obesity Treatment Unit
Fitness in the City, Children's Hospital Medical Center, Boston, MA
Harvard University research program, Engaged Health
Mass General Hospital, Dietetic Internship
Southern New Hampshire Dietetic Internship
Voice and Speech Therapy Lab, Massachusetts Eye and Ear Institute
Winchester Hospital Physician's Organization, Winchester, MA
MI Trainings for Industry
Genzyme, Inc.
Boehringer Ingleheim Pharmaceuticals, Inc.
MI Trainings for Other Professional Groups
Academy of Nutrition and Dietetics Food and Nutrition Conference and Exhibition
Arizona WIC program and AZ Dietetic Association Conference
Blue Cross/Blue Shield of MA
Children's Hospital of Boston, "Fit In the City" program
Children's Hospital of Boston, bariatrics program clinicians
Children's Hospital of Boston, SMART TD1 research project
Diabetes Educators of ME
Lawrence Public Schools, Working Families Initiative
Lee Health Hospitals, Ft. Myers, FL
Lowell Community Health Center, Lowell, MA
Maine Nutrition Council Annual Meeting
Mass Dietetic Association Geriatric Nutrition DPG
Massachusetts Dietetic Association
Massachusetts WIC program nutrition staff
Missouri WIC Annual Meeting
National Association of Nutrition and Aging Services Programs
National Wellness Conference
New Hampshire Dietetic Association
New York Dietetic Association
Northeast Organization of Nurse Educators
Rhode Island Dietetic Association
Simmons College Nutrition Alumni Organization, Boston, MA
Tobacco Free Maine Annual Conference
MI/Health At Every Size Lectures and Presentations
American Dietetic Association Weight Management Dietetic Practice Group Annual Conference
Harvard University CME conferences, 2012 and 2013
MA Academy of Primary Care Physicians Annual Meeting, Boston, MA
Multi-Service Eating Disorders Association Annual Meeting, Newton, MA
West Virginia State Obesity Conference
Academy for Nutrition and Dietetics Food and Nutrition Conference and Exhibition, 2015
---
Ellen was recently featured, along with her book Wellness, Not Weight, in the A Weigh Out Members' Circle ; an online community for people  who are looking for skills and tools to overcome emotional and binge eating. A Weigh Out promotes an end to emotional eating and weight  obsession. You can listen to the full interview here, replayed with permission of Founder and Coach Ellen Shuman.
In this interview, Ellen and I discussed the many aspects of Health At Every Size (HAES) and a Non-Diet approach, both of which can help you make peace with food.