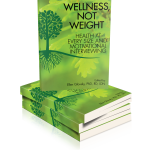 Part One explores the three basic concepts of the book, the argument for a focus on wellness rather than body weight, the Health at Every Size paradigm, and Motivational Interviewing.
Part Two discusses the science behind these approaches offering more detailed background information for professionals and academics. Included in this section are articles which offer clear, cogent explanations of potential risks and failures in a weight-centered approach to health. Discussions of the risks of a weight-centered methodology are also included. Disordered eating and body image issues are featured topics.
Part Three assists health care professionals in communicating a non-diet approach to clients and patients. A discussion of the use of Motivational Interviewing techniques with a non-diet approach is also introduced.
A few of the noted author-contributors include:
"Weight, Health and Culture:  Exposing the Myth, Exploring the Realities" by Jon Robison, PhD, MS
"Biomedical Rationale for a Wellness Approach to Obesity" by Paul Ernsberger, PhD
"Health Risks Associated with Weight Cycling" by Dharini M. Bhammar, PhD, MBBS and Glenn A. Gaesser, PhD
"A Non-Diet Approach for Use with Athletes" by Paula Quatromoni, PhD, RD, LDN and Mary Ellen Bingham, MS, RD, CSSD, CDN
"Integrating Motivational Interviewing and the Non-Diet Approach" by Molly Kellogg, RD,  LCSW
"Principles of Attuned Eating" by Judith Matz, LCSW and Ellen Frankel, LCSW
"How To Break the Eat-Repent-Repeat Cycle" by Michelle May, MD
Place your order for the book here