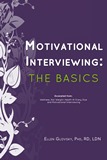 Booklet – 104 Motivational Interviewing:  The Basics
Type: Digital Download or Spiral Paperback
Lecturer: Ellen Glovsky, Ph.D., RD, LDN
Price : $7.99 for Paperback (includes shipping) $3.99 for digital download
Live Webinar
WB 102 Motivational Interviewing & the "Non-Diet" Approach to Dietary Behavior Change
Type: Live Webinar
Lecturer: Ellen Glovsky, Ph.D., RD, LDN
Price : $75 Per Person
Dates:  TBA
Motivational Interviewing skills are especially useful in teaching a "non-diet" approach to dietary behavior change. This non-diet approach teaches hunger and fullness awareness, food choice based on what one really wants to eat, and conscious eating. The method takes into account special dietary needs as well as a healthy diet for disease prevention.
This webinar will discuss the basics of Motivational Interviewing, and its application to the "non-diet" method. We will discuss the philosophy ("spirit") and techniques of Motivational Interviewing, an evidenced based consultation style with applications to the many fields of health behavior change. We will discuss the concepts of the "righting reflex," change talk, and the decisional matrix, three core components of the MI guiding style.
This webinar is appropriate for any health care provider who works with clients/patients regarding dietary behavior change. Click here for information on CEUS.
Participation in the webinar requires access to a high-speed internet connection and a telephone. All times are EASTERN US TIME. At this time, IMC does not seek pre-approval for continuing educational units. However, we will provide documentation that will allow a participant to petition the relevant sanctioning body for such units. Registered Dietitians can list IMC training events in the Professional Development Portfolio, providing these topics fulfill learning needs and objectives that were specified in the plan.
———-
TT 101 Coaching/Tutorial with Dr. Glovsky
Type: Tutorial
Lecturer: Ellen Glovsky, Ph.D., RD, LDN
Call (781) 890-1618 or Email Dr. Ellen for Details